Stryker® Refurbished Endoscopy Equipment
Posted April 25, 2016 in Endoscope Tools, Refurbished Equipment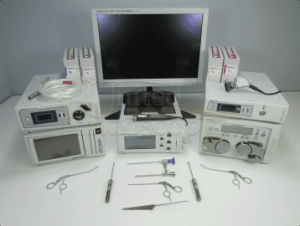 If you do not know who created a product, you do not know its value. Knowing the manufacturer tells you whether or not the product is reliable, high-quality, and effective. At United Endoscopy, we provide affordable refurbished medical equipment from Stryker® Corporation and other leading manufacturers so that you know you are purchasing quality equipment from a brand you trust.    
Stryker®: A Leading Medical Technology Company
Stryker® Corporation provides quality, innovative products to help patients, hospitals, and medical professionals. The founder of the company, Dr. Homer Stryker, was an orthopedic surgeon who felt that current medical products did not meet the needs of his patients. Dr. Stryker began to invent his own medical products, and in 1941, he founded a company in his name to sell his devices. Now, Stryker® is active in over 100 countries worldwide. As a global leader in medical technology, Stryker® helps patients live healthier lives by providing doctors with medical products that make surgery and recovery faster, simpler, and more effective.
Stryker® Products
The innovation of Stryker®'s endoscopy equipment sets a high standard. Stryker® was the first corporation to combine HD video with infrared technology and voice activation to produce better outcomes. The ergonomic tools and innovative equipment used in laparoscopy, arthroscopy, gynecology, urology, and other medical fields make endoscopy much easier and more efficient. At United Endoscopy, our refurbished Stryker® endoscopy equipment represents the high-quality brand of the Stryker® name. Our affordable medical equipment ranges from a Stryker® fiber optic light cable to a Stryker 1188 Complete Arthroscopy System. We have a wide variety of state-of-the-art Stryker® endoscopy tools to give you and your patients the best experience with the greatest results.
For affordable, high-quality refurbished medical equipment designed by Stryker®, contact United Endoscopy. We have customers from over 50 countries, and our equipment can be shipped worldwide. Call us at (951) 270-3400 or toll-free at (800) 899-4847, or fill out our online contact form to get in touch with us today.