KARL STORZ Refurbished Endoscopy Equipment
Posted May 17, 2016 in Endoscope Tools, KARL STORZ, Refurbished Equipment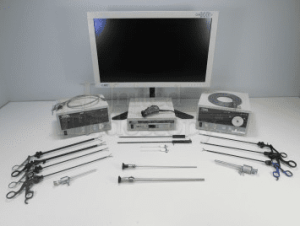 As a provider of high-quality refurbished medical equipment, United Endoscopy works with multiple leading manufacturers. One of our preferred providers is KARL STORZ, a company that has manufactured endoscopes, devices, instruments, and camera systems for over 70 years. Here at United Endoscopy, you can purchase refurbished KARL STORZ medical equipment at a more affordable price for the same high-quality tools.
About KARL STORZ
KARL STORZ was founded in 1945 by Karl Storz. An interest in medicine, illumination, and physics led Storz to specialize in the development of endoscopes and ENT instruments. Storz had a vision of developing medical instruments that would help physicians to examine the inside of the body. Through imagination, innovation, and craftsmanship, Storz developed the flexible fiber optic light cable through which a bright light could be transmitted from an outside source to illuminate the structures of the body. Now with over 400 patents and a continuing focus on innovation and craftsmanship, KARL STORZ continues to create reliable medical products for physicians, veterinarians, and other medical professionals around the world.
KARL STORZ Products
In medicine, KARL STORZ equipment helps make endoscopy more effective and efficient in all fields ranging from plastic surgery to gastroenterology to neurosurgery to gynecology. The KARL STORZ endoscopy equipment here at United Endoscopy represents the best of KARL STORZ products. Some of our refurbished KARL STORZ endoscopy tools include cystoscopes, laparoscopes, resection sets, camera systems, full laparoscopy systems, and more.
Find high-quality refurbished KARL STORZ medical equipment here at United Endoscopy. We can ship our products worldwide and look forward to helping you and your medical practice find affordable, high-quality medical tools. To contact us today, please call our local number (951) 270-3400 or our toll-free number (800) 899-4847, or you may fill out our online contact form at your convenience.