Olympus Refurbished Endoscopy Equipment
Posted June 17, 2016 in Endoscope Tools, Olympus Refurbished Equipment, Refurbished Equipment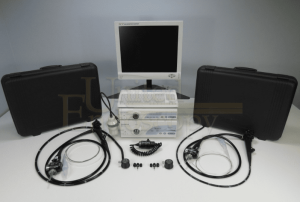 Olympus is a leader in precision technology and designs innovative solutions for medical equipment so that medical professionals have the tools they need to save lives and provide quality healthcare. Founded in 1919, Olympus primarily focuses on healthcare, life science, and consumer electronics. More specifically, the company's key business areas are imaging instruments, cameras, audio products, medical and surgical products, industrial measurement, and life science imaging systems. In the field of endoscopy, Olympus technologies further scientific research and allow physicians to diagnose, treat, and prevent illness or disease. Olympus products also allow physicians to provide minimally invasive advanced therapeutic and diagnostic care in the medical fields of gastroenterology, pulmonology, urology, general surgery, gynecology, bariatrics, otolaryngology, and orthopedics.
Olympus Products
Many of our refurbished medical tools at United Endoscopy are made by Olympus. From the smallest fiber optic light cable for $100 (USD) to the Olympus 160 Complete G.I. Video System for $23900 (USD), the Olympus name is well-represented. We have a variety of Olympus colonoscopes, gastroscopes, laparoscopes, hysteroscopy sets, forceps, and other tools at United Endoscopy. You can see our full selection of Olympus products here on our website. These endoscopy tools can make your practice and your patient care more effective, more efficient, and more therapeutic.
High-quality refurbished Olympus medical equipment can be found here at United Endoscopy. For worldwide shipping of affordable endoscopy equipment, contact us today. You can reach us online or by calling us locally at (951) 270-3400 or toll-free at (800) 899-4847.