ConMed Linvatec Refurbished Endoscopy Equipment
Posted July 18, 2016 in Arthroscopy Equipment, ConMed Linvatec Equipment, Endoscope Tools, Orthopedic Equipment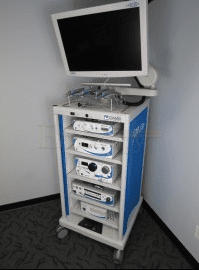 Among the great providers of endoscopy equipment is ConMed Linvatec. ConMed Linvatec is a global medical technology company that makes many pieces of equipment that are used in medicine today. United Endoscopy sells affordable, refurbished, high-quality endoscopy equipment made by ConMed Linvatec to medical facilities worldwide.
About ConMed Linvatec
ConMed Linvatec designs and sells patient and surgical monitoring products and services. These products and services help physicians all over the world provide high-quality patient care. Some of the medical fields that benefit from ConMed Linvatec medical equipment include orthopedic science, sports medicine, gynecology, gastroenterology, arthroscopy, pulmonology, laparoscopy, cardiology, critical care, general surgery, and anesthesiology. ConMed was initially formed in 1970 under the name Consolidated Medical Equipment, Inc. and was later renamed ConMed. Linvatec joined ConMed in 1997, making ConMed Linvatec number two in the world in producing arthroscopy products and orthopedic surgical instruments. The company has been in business for over 40 years, and it distributes its products worldwide.
ConMed Linvatec Products
At United Endoscopy, we sell products made by ConMed Linvatec. Currently, United Endoscopy has roughly 40 different pieces of ConMed Linvatec endoscopy equipment available for sale. Each product is fully refurbished, which means that its quality is assured, and its price is far more affordable than brand new endoscopy equipment. Some of the tools we offer include Linvatec arthroscopes, laparoscopes, and camera heads, generally priced below $1000 USD. We also offer complete sets and systems, including the Linvatec Microchoice Electric Orthopedic System and the ConMed Linvatec Smart OR Complete Arthroscopy System. Purchasing refurbished ConMed Linvatec endoscopy equipment can give your medical facility high-quality equipment made by a well-established manufacturer. These tools can help you provide better patient care for a more affordable price.
United Endoscopy ships refurbished endoscopy equipment worldwide. If you would like to order one of our ConMed Linvatec endoscopy pieces, please visit us online. You can also reach us by phone at (951) 270-3400 or toll-free at (800) 899-4847.