Smith & Nephew Dyonics Refurbished Endoscopy Equipment
Posted August 17, 2016 in Endoscope Tools, Smith & Nephew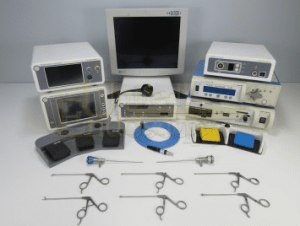 Smith & Nephew PLC has been helping medical professionals for over 150 years. This global medical technology business provides surgical devices, wound care products, and endoscopy equipment for medical facilities in over 100 countries worldwide. Here at United Endoscopy, we sell Smith & Nephew refurbished endoscopy equipment so that doctors and physicians can afford quality equipment from one of the top manufacturers in the world.
About Smith & Nephew
Smith & Nephew is a multibillion-dollar company based in London, and their products are well known in the fields of orthopedic reconstruction, advanced wound management, sports medicine, and trauma. The company began in 1856 with Thomas James Smith opening a small pharmacy in the city of Hull, England. His nephew took over the business after Smith's death in 1896. Having provided surgical fields and dressings during World War I, Smith & Nephew eventually expanded into a worldwide healthcare conglomerate. Since 1998, Smith & Nephew has focused on three businesses: wound management, orthopedics, and endoscopy.
Smith & Nephew Products
Manufacturers at Smith & Nephew take a pioneering approach to designing products and services that can create better outcomes and serve a globally diverse range of customers. For endoscopy equipment, that means everything from camera heads, arthroscopes, and laparoscopes to insufflators, PowerMax sets, and complete laparoscopy systems. At United Endoscopy, medical professionals can purchase refurbished Smith & Nephew endoscopy equipment and refurbished Smith & Nephew Dyonics endoscopy equipment for affordable prices. Most of these pieces (especially the wide variety of laparoscopes and arthroscopes) are under $1000 USD, with the lowest priced at $400 USD. Both United Endoscopy and Smith & Nephew want to work with you using high-quality endoscopy tools so that you can provide your patients with the best care.
United Endoscopy offers many different high-quality endoscopy tools made by Smith & Nephew. To purchase our equipment, simply contact us online, or call (951) 270-3400 or (800) 899-4847.