Richard Wolf Refurbished Endoscopy Equipment
Posted November 22, 2016 in Endoscope Tools, Refurbished Equipment, Richard Wolf
United Endoscopy provides medical professionals with refurbished endoscopy tools manufactured by some of the leading endoscopy companies in the world. Among these companies is Richard Wolf, which has over one hundred years of experience working in human medicine and medical instruments.
About Richard Wolf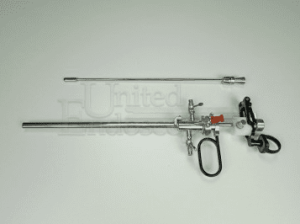 Originally founded as Brückner and Wolf in Berlin in 1906, Richard Wolf is now a global endoscopy company. The company quickly grew in prominence to receive worldwide recognition at several World's Fairs within a few years of its founding. Some of its major contributions to surgery and gastroenterology include the Wolf-Schindler gastroscope in 1932, the first endoscopic color films, the first endoscopic television transmissions, "cold light" illumination for endoscopes, the first extracorporeal shock wave lithotripter, and technologies for spinal column endoscopy. Richard Wolf has also made substantial advancements in nasal, laryngo-pharyngo, and uretero surgeries. The company now has seven major subsidiaries (including Richard Wolf USA) as well as 120 regional offices throughout the world.
Richard World Endoscopy Tools at United Endoscopy
The high-quality equipment made by Richard Wolf is designed for endoscopic diagnosis and therapy. By pioneering innovative new products and improving existing products, Richard Wolf hopes to significantly advance minimally invasive surgery. At United Endoscopy, we sell refurbished Richard Wolf endoscopy equipment that has already withstood the tests of time. Each product, from the $200 (USD) Wolf 26 Fr. Standard Flow Resection Sheath Set to the $2200 (USD) Wolf 2232 Insufflator, can improve your medical practice's ability to help diagnose and treat a variety of health conditions and illnesses. We also offer the Wolf Urethrotome Set and a variety of arthroscopes for your benefit.
High-quality, professional, refurbished endoscopy tools made by Richard Wolf are available for affordable prices here at United Endoscopy. To learn more or to purchase refurbished endoscopy equipment, call (951) 270-3400 (local) or (800) 899-4847 (toll-free) today. Our online contact form is also available for your convenience.