PENTAX Medical Refurbished Endoscopy Equipment
Posted October 20, 2016 in PENTAX Medical Endoscopy Equipment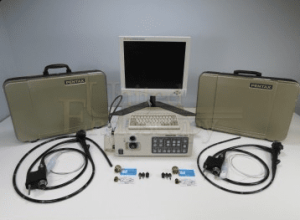 PENTAX Medical has a variety of valuable endoscopy tools for medical professionals to use in their work. At United Endoscopy, we offer refurbished endoscopy equipment from PENTAX Medical so that physicians can get high-quality equipment for affordable prices.
About PENTAX Medical
PENTAX Medical is a division of HOYA Group, a global med-tech company based in Tokyo. The company was established in Japan in 1919. Medical endoscopy is in high demand, and PENTAX Medical is constantly working to deliver innovative endo-imaging solutions. The medical endoscopy equipment created by PENTAX MEDICAL enables doctors and other medical professionals to perform early diagnosis and treatment of medical conditions. The company's concentration is on providing endoscopy equipment that focuses on quality, innovation, and simplicity. All PENTAX Medical equipment is created in manufacturing centers in the United States, Japan, and Europe.
Refurbished PENTAX Medical Products at
United Endoscopy
PENTAX Medical equipment is thoroughly tested and examined before it is sold. After the equipment has been put on the market and purchased by medical practitioners, the equipment is tested again through regular use. Refurbished endoscopy equipment has been put through these tests and more, as every product must be quality-tested before it can be resold. Any medical professional in need of quality endoscopy tools can be assured that the products found at United Endoscopy are comprehensively proven to work safely and effectively.
Our PENTAX Medical endoscopy equipment includes endo-imaging tools such as video colonoscopes, bronchoscopes, duodenoscopes, gastroscopes, and more. We also offer fully refurbished complete G.I. video systems for doctors in need. PENTAX Medical endoscopy tools are clinically relevant and technologically advanced, and they can help your medical practice provide excellent customer care, diagnosis, and treatment.
Purchase refurbished PENTAX Medical endoscopy equipment through United Endoscopy to get high-quality equipment for affordable prices. Call us locally at (951) 270-3400 or toll-free at (800) 899-4847, or contact us using our online form today.