Laparoscopy Tools
Posted February 10, 2016 in Laparoscopy Tools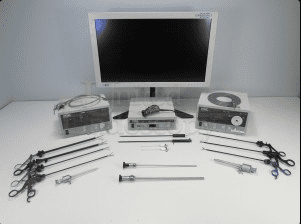 Laparoscopy tools make medical exams and surgeries easier, more precise, and more successful. Today's doctors, surgeons, and other medical professionals depend on quality laparoscopy tools to care for patients with medical needs. However, many medical facilities cannot afford expensive endoscopes and equipment for these tests and treatments. At United Endoscopy, we answer the needs of patients and doctors by providing high-quality refurbished medical tools at affordable prices. Our current clients come from more than 50 countries and work in all medical professions.
Laparoscopy
Laparoscopy is a minimally invasive way of surgically examining, diagnosing, and treating medical conditions in the abdomen and pelvic area. Using a thin tube with a light, a surgeon can examine the abdominal or pelvic organs to find and identify cysts, fibroids, adhesions, infections, and other growths. Laparoscopy can diagnose and treat female conditions such as endometriosis, pelvic inflammatory disease, ectopic pregnancies, and infertility. Laparoscopy can also allow the surgeon to do a biopsy, to check for or remove abnormal growths, check for cancer, do tubal ligation, examine internal organs for damage after an accident or injury, diagnose the cause of pelvic pain, and remove organs such as the uterus, ovaries, appendix, spleen, and gallbladder. Laparoscopy is usually less stressful for both the patient and the doctor and may have fewer problems and lower costs than laparotomy or more invasive surgery.
Laparoscopy Equipment at
United Endoscopy
At United Endoscopy, we provide affordable, refurbished laparoscopy equipment to help medical professionals perform laparoscopic surgery. From our complete laparoscopy systems and electrosurgical units to our many individual laparoscopes, laparoscopic instruments, and insufflators, there is something for every need. Here at United Endoscopy, you can find a Stryker bariatric laparoscope for less than $2000 (USD), an Ethicon Harmonic scalpel set for under $3000 (USD), and articulating vascular reloads, graspers, and staplers from leading manufacturers for as little as $35 (USD).
To find high-quality and affordable laparoscopy tools or other high-quality endoscopic instruments, contact United Endoscopy at (951) 270-3400 or toll-free at (800) 899-4847. You can also fill out our online contact form at your convenience. We look forward to assisting you with all your laparoscopy and other medical equipment needs.