Urology / Cystoscopy Tools
Posted September 16, 2015 in Cystoscopes, Ureteroscopes, Urology Tools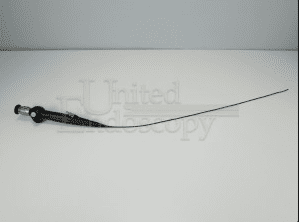 As a medical professional, it's important to have the right medical equipment. At United Endoscopy, we understand that you need these tools to better care for your patients in need. To help you out, we provide refurbished medical equipment so that you can have the best equipment and products for 40 to 80 percent cost savings. We offer a wide variety of endoscopy equipment, including urology/cystoscopy tools, to assist you in diagnosing and treating urological problems.
Urology
Urology is the focus on problems with the male and female urinary tract and the male reproductive organs, including the urethra, ureters, bladder, kidneys, adrenal glands, penis, prostate, testes, epididymis, seminal vesicles, and vas deferens. We are pleased to provide you with a wide range of urology tools including cystoscopes, ureteroscopes, urethroscopes, urethrotomes, sheaths, biopsy tools, resection sets, cameras, and more.
Cystoscopes
Cystoscopy is an examination of the bladder and urethra from the inside, and it is performed with a cystoscope. The cystoscope, a hollow tube with a lens and a light, is inserted into the urethra and sent into the bladder to diagnose and treat urinary problems such as UTIs, hematuria, painful urination, incontinence, overactive bladder, chronic pelvic pain, kidney stones, enlarged prostate, or unusual growths. We offer three high-quality refurbished cystoscopes that are autoclavable and have standard eyepieces, all for under $1,000 USD. We also offer a high-quality flexible cystoscope for examinations and treatments that require more flexible movement.
Ureteroscopes
Ureteroscopy is a procedure used to examine the ureter tubes that transfer urine from the kidneys to the bladder. The long and thin ureteroscope enables the surgeon to view a kidney stone or other blockage and, depending on its location, either remove it or break it into smaller pieces to be passed naturally. We provide our customers with several high-quality flexible ureteroscopes to facilitate this procedure.
Additional Tools
In addition to state-of-the-art cystoscopes and ureteroscopes, we also sell multiple sheaths/bridges and continuous flow resection sheath sets, biopsy tools, urethrotome sets, a full electro-surgical unit set, and more. These can all be used to assist you in proper medical diagnosis, treatment, and surgical procedures having to do with urology. More information about our urology/cystoscopy tools equipment can be found on our urology equipment page.
If you are interested in any of our urology tools or any of our other high-quality endoscopy tools, contact us at (951) 270-3400 or toll-free at (800) 899-4847. For your convenience, you may also fill out our online contact form. We look forward to assisting you with all your medical equipment needs.